Testimonials
JENNIFER AND OLIVIA
Both my children have attended Inner North Playschool. We chose Playschool because it was a small locally run school and we had heard great things about the program and the teachers. As it was our children's first time away from home we found Playschool to be a really special experience.
The Inner North Playschool teachers have a very special chemistry with the children. They are kind, funny, caring and firm when needed, but above all we always felt the teachers really cared about our children. The children always responded so well to this and returned the affection (with interest) to the teachers.
We also really appreciated how well the teachers communicated with us. Both with day to day information and when we were dealing with more difficult issues such as separation anxiety. They were always full of friendly support, helpful advice and strategies. I always appreciated the texts they would send me after I had left. That way I knew that my child was happy and so I could feel relaxed too.
Playschool was a really fun year. Each term was thoughtfully planned and we also loved seeing the children enjoy the variety in the daily program. Every family contributed to the running of the Playschool and as such a real community spirit was fostered. Firm friendships were made between the children and the parents.
The only sad thing about Playschool is when the year is over. We just wish that we had a third child to send to the Inner North Playschool! … Class of 2013.
MARY
Inner North Playschool provided a fantastic first introduction to structured 'schooling' for our daughter. Margie & Louise created a warm and caring environment, perfect for learning through play. We enjoyed taking an active role in the school, parents & little siblings were always welcomed and we appreciated the opportunity to be helpers throughout the year. Best of all, our daughter loved going to 'Margie & Louise School' & would often ask to go again – even on Saturdays! … Class of 2013.
SONYA
We loved Inner North Playschool. We had tried a couple of other playschools for our three year old daughter, but the minute I saw INPS I knew it was the one for her. It was colourful, organized, and fun. It was run by warm, kind, intelligent teachers and my daughter loved it. Through play she learned, laughed, thrived, made friends and was ready for preschool by the time she finished. I will definitely be enrolling my son there next year. It's a wonderful playschool … Class of 2016.
ELISA AND MIMI
My daughter Mimi loved playschool, it put an end to her 'baby trantrums' and helped her grow into the confident little lady she is. Mimi's painting and fine motor skills improved, and her ability to make new friends was lovely to watch. Overall, I rate Inner North Playschool as one of the finest hidden gems in the Canberra Region and I feel happy my child was able benefit from it's joyfulness. Five stars … Class of 2016.
KATE AND JAY
The wonderful and nurturing environment at Inner North Playschool is created by the kind, open, inclusive and good humoured style of the teachers. On first stepping into the school I felt confident that this first school experience would be a positive one for my son. His year at the INP was both valuable and memorable and no doubt set him up for a happy and healthy attitude towards school for the years ahead. I cannot speak highly enough of the wonderful Margie and Louise … Class of 2013.
TIM, XANDER, EMMA and LEO
Inner North Playschool has been a fantastic experience for our family. The year of structured play, routines and socialisation did a great job in preparing Xander (2011) and Leo (2013) for preschool. With two mornings a week with the older children away I was able to provide some valuable one-on-one time with their younger siblings (and get the occasional job done!). The teachers Margie and Lousie are fabulous – incredibly patient and extremely organised.
HARRY, KATH AND ELLA
We couldn't have been luckier to find Inner North Playschool for our daughter Ella's first experience at school. Margie and Louise have created a fun and nurturing environment, where crafty little kids proudly bring something home every school day and have a new song to sing or story to tell. Special days like Easter, Mother's Day, Father's Day and Christmas were made even more exciting for the little ones as they ever so proudly showered us with their creations. Ella's little sister Saba is on the list for 2017 and we all can't wait to be at Inner North Playschool again. … Class of 2013.
EM
My eldest child attended Inner North Playschool in 2013. It was the best decision I have made as not only was it a great first school experience, but set her up beautifully for pre-school. I never had an issue dropping her off as it was such a nurturing environment that she loved being a part of. Margie and Louise, the teachers, still get a mention most days in our house. My son Ed will be going to Inner North Playschool next year (2015) and is so excited! I'm actually looking forward to being part of the lovely, fun family that is Inner North Playschool and seeing Margie and Louise again. I have never heard a bad report about the Playschool and can't imagine you'd find anywhere better to send your 3 or 4 year old … Class of 2013.
ANNA
Our son attended Inner North Playschool in 2016 and had a fantastic year playing, learning and making new friends. Margie and Louise do a wonderful job in creating a warm and friendly environment not only for the children but for the parent community too. This year's transition to preschool was a smooth one thanks in large part to the Playschool and we hope to send our daughter there too in a couple of years time. Thank you, Margie and Louise! … Class of 2016.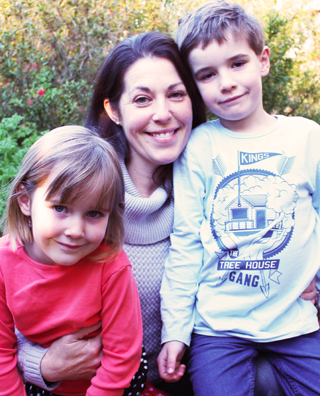 Jennifer, Olivia and Sam … 2011/2013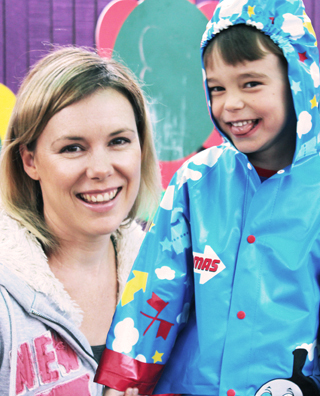 Kate and Jay … 2013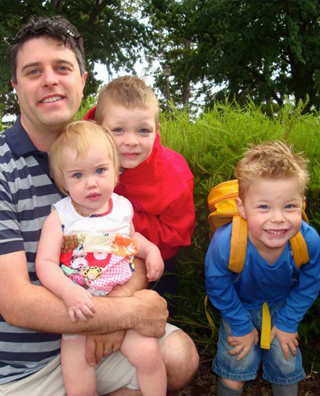 Tim, Xander, Emma and Leo … 2013